---
---
org.jboss.dna.graph.query.model
Class Command

java.lang.Object
  org.jboss.dna.graph.query.model.Command

All Implemented Interfaces:
Direct Known Subclasses:
---
public abstract class Command

extends Object

implements LanguageObject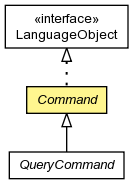 Represents the abstract base class for all top-level language objects that are the root of a language object tree.
See Also:
---
Methods inherited from interface org.jboss.dna.graph.query.model.Visitable
accept
Command

public Command()
---
---
Copyright © 2008-2010 JBoss, a division of Red Hat. All Rights Reserved.