---
---
org.jboss.dna.graph.query.model
Class QueryCommand

java.lang.Object
  org.jboss.dna.graph.query.model.Command
      org.jboss.dna.graph.query.model.QueryCommand

All Implemented Interfaces:
---
public abstract class QueryCommand

extends Command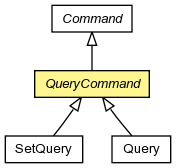 Represents the abstract base class for all query commands. Subclasses include Query and SetQuery.
See Also:
---
Methods inherited from interface org.jboss.dna.graph.query.model.Visitable
accept
getOrderings

public final List<Ordering> getOrderings()
Return the orderings for this query.

Returns:

the list of orderings; never null
---
getLimits

public final Limit getLimits()
Get the limits associated with this query.

Returns:

the limits; never null but possibly unlimited
---
---
Copyright © 2008-2010 JBoss, a division of Red Hat. All Rights Reserved.